Homesickness is always a concern with international students who are new to living and studying in the United States. With many returning international students choosing to stay in the United States over the summer because of COVID-19, homesickness may be an even bigger worry than previous years. As a host family, it's important to recognize these issues and communicate with your international student about how you can offer support. One piece of feedback that we've always received is that international students appreciate a homecooked meal, especially if it's comfort food that reminds them of home. Below we highlight several Asian comfort food favorites for you to try!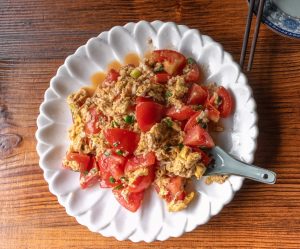 Chinese Tomato Egg Stir-Fry Recipe
This Chinese Tomato Egg dish is the quintessential Chinese comfort food for many Chinese kids growing up. The dish is similar to scrambled eggs but combines the tomatoes' sweetness with the savoriness of the eggs in the most delectable way. This childhood favorite is sure to please and is typically served with white rice.
Ingredients
4 small to medium tomatoes
1 scallion
4 eggs
3/4 tsp salt (divided, or to taste)
1/4 tsp white pepper
1/2 tsp sesame oil
1 tsp Shaoxing wine
3 tbsp vegetable oil
2 tsp sugar
1/4-1/2 cup water
Directions
Cut tomatoes into small wedges and chop the scallion at a diagonal.
Mix 4 eggs into a bowl and season with ¼ teaspoon salt, white pepper, sesame oil, and Shaoxing wine.
Preheat the wok or pan over medium heat until it just starts to smoke. Then add 2 tbsp. of oil and immediately add beaten eggs. Scramble eggs with a spatula and remove from the wok as soon as it is cooked to set aside.
Add 1 tbsp. oil to the wok on high heat and add the tomatoes and scallions. Stir-fry for 1 min, then add 2 tsps. of sugar, ½ teaspoon salt, and ¼ cup water. Add back the cooked eggs from earlier.
Cover and cook for 1-2 minutes until the tomatoes are completely softened.
Uncover, and continue to stir-fry until the sauce thickens.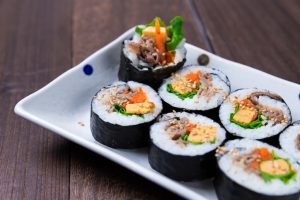 Kimbap/Gimbap Recipe
Kimbap or Gimbap is a Korean-style sushi roll, made from cooked rice and other ingredients rolled with dried sheets of seaweed. It can be made to be vegetable oriented with only veggies and cooked tofu or filled with meat like ham or crab.
INGREDIENTS (for 4 rolls)
4 dried seaweed sheets(gim/sushi nori)
2 cups of spinach, cleaned and rinsed
2 eggs, beaten
1/2 carrot, cut into strips/julienned
2 to 4 imitation crab sticks, cut in half lengthwise
4 sticks of BBQ Kimbap ham (available at a Korean grocery store) or substitute with 2-3 cups of your favorite ham
4 yellow radish pickle/danmuji (available at a Korean / Japanese grocery store)
2 1/2 cups cooked short-grain rice
2 Tbsp sesame oil
3/8 tsp salt (or more to taste)
Directions
Boil spinach in boiling water for 30-60 seconds. Then Drain the water and run some cold water over the spinach. Gently wrap spinach in a paper towel and squeeze to remove any excess water. Put the spinach into a bowl. Add 1/8 tsp salt and 1/2 Tbsp sesame oil to bowl and mix.
Preheat pan over medium heat and add cooking oil to coat pan. Add in beaten egg and cook both sides of the omelet until done. Then cut the egg omelet into long strips.
Over medium heat, cook crab and ham separately about one min each until warmed through.
Place the cooked rice into a mixing bowl, add 1/2 Tbsp sesame oil and 1/4 tsp of salt (or more to taste), and mix well.
Place one dried seaweed sheet on the bamboo (sushi rolling) mat. Spread rice evenly over seaweed until 2/3 of the seaweed is thinly covered. Make sure to leave 2 inches of a gap at the top.
Fill the seaweed with the filing ingredients as desired. Make sure to spread ingredients evenly.
Add some water on the gap you left in step 6. Then roll the seaweed tightly.
Repeat the step 6-8 with the remaining ingredients.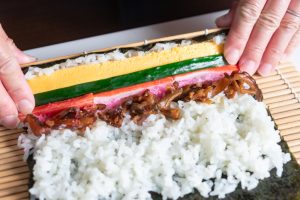 Check out our homestay blog for more information on Cambridge Network as a residential provider, tips for hosting, and our host testimonials. If you're interested in hosting an international student, please fill out an inquiry form!