Thanksgiving is a chance for families to gather together, to feast, and to enjoy being with one another. The holiday is also a meaningful time to show appreciation to those in our lives and a perfect opportunity to include your international student in your family traditions. One common tradition is the Thanksgiving dinner, usually consisting of family favorites such as roast turkey, stuffing, mashed potatoes, and gravy. But for many international students, these foods can be entirely unfamiliar. In fact, wild turkeys are only native to North America, so it makes sense that your international student has never had it. This Thanksgiving, why not try to make some classic Thanksgiving dishes with an Asian-inspired twist to get in the spirit of giving thanks and cultural appreciation.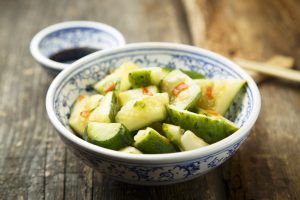 Taiwanese Sesame Cucumbers
Ingredients
3 seedless cucumbers, chilled in the freezer for 10 minutes
1/2 cup toasted sesame oil
1/3 cup rice vinegar
Kosher salt
1/2 cup sesame seeds
1/2 teaspoon crushed red pepper
4 scallions, coarsely chopped
Cut cucumbers lengthwise into eighths, then cut crosswise into 2-inch sticks. In a large bowl, mix sesame oil, vinegar, and a healthy pinch of salt then add the cucumbers and toss a few times.
In a food processor, add sesame seeds, crushed red pepper, and 1 1/2 teaspoons of salt. Process until everything is coarsely chopped. Add half of the mixture to the cucumbers and toss again. Arrange to serve on a plate and then garnish with the remaining sesame seed mixture and the scallions.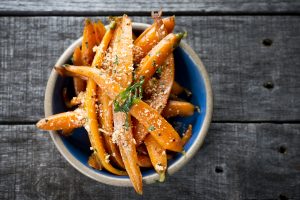 Red-Miso-Glazed Carrots
Ingredients
3 lbs carrots, sliced on the bias 1/3 inch thick
1/4 cup vegetable oil
1/2 cup red miso paste
6 tablespoons unsalted butter, softened
1 tablespoon light brown sugar
1 cup thinly sliced scallions (about 6)
Preheat the oven to 425° F. In a large pot, bring salted water to boil, then blanch the carrots about 2 minutes. Drain carrots and pat dry.
In a medium pan, heat the oil over high heat. Cook carrots, stirring once until lightly browned in spots, about 5 minutes. Meanwhile, in a small bowl, mix the miso with the butter, brown sugar and half of the scallions to form a paste. Add the miso butter to the carrots and toss until evenly coated.
Roast the carrots for about 20 minutes in oven, stir about halfway through, until tender and glazed. Transfer the carrots to a bowl and serve with remaining scallions.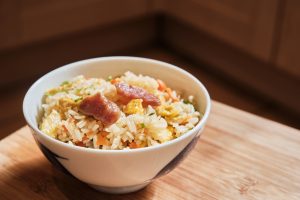 Sticky-Rice Dressing or Stuffing
Ingredients
6 cups Chinese sticky or sweet rice (40 ounces)
1 ounce dried shiitake mushrooms (about 10 medium)
2 cups boiling water 1/4 cup plus
1/4 cup plus 2 tablespoons vegetable oil, plus more for greasing
6 shallots, thinly sliced
1/2 lb fresh shiitake mushrooms, stemmed and caps cut into 1/2-inch pieces
Salt and freshly ground pepper
6 scallions, coarsely chopped
3 Chinese sausages (4 ounces), coarsely chopped
One 8-ounce can whole water chestnuts, drained and sliced 1/8 inch thick
One 3 1/2-ounce package vacuum-packed cooked chestnuts, coarsely chopped
3/4 cup Shaoxing cooking wine or dry sherry
1/3 cup soy sauce
2 tablespoons sugar
1/2 cup chopped cilantro, plus sprigs for garnish
Cook rice one day in advance and let it stand in the fridge overnight.
Next day, put the dried shiitake in a medium bowl and cover with the boiling water. Soak until softened, about 20 minutes. Cut off the stems and cut the caps into 1/2-inch pieces. Carefully drain the soaking liquid into a cup, do not keep the grit at the bottom.
Preheat the oven to 375°F. In a large, deep skillet, heat 3 tablespoons of the oil over medium heat. Add the shallots then stir until translucent, about 3 minutes. Then add the fresh shiitake, cover the skillet, stirring a few times, until softened, about 5 minutes. Add the reconstituted shiitake, then season with salt and pepper, cover for another 2 minutes. Transfer mushrooms into a medium bowl.
Add the remaining 3 tablespoons of oil to the skillet. When the oil is hot, add the scallions and sausage and cook over high heat, stirring, until the sausage is heated, about 2 minutes. Add the water chestnuts and cooked chestnuts and stir to heat through, about another 1 minute. Season with salt and pepper and then add the mushrooms, 1 cup of the shiitake soaking liquid, the Shaoxing, soy sauce and sugar and bring to a boil.
Meanwhile, warm cooked rice over the stove with a tablespoon of water at a time until heated and fluffed. Add the steamed rice and stir to incorporate all the ingredients. Stir in the chopped cilantro and season with salt and pepper.
Oil the inside of a large baking dish. Pack the rice mixture into the dish and cover with foil. Put the dish in a large roasting pan. Pour enough water onto the pan to reach halfway up the side of the dish. Cover the pan with foil and bake for 1 hour. Garnish with the cilantro sprigs to serve.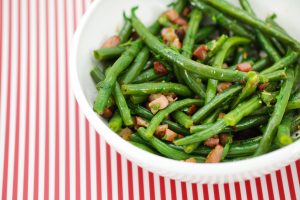 Fresh Green Bean Salad with Asian Dressing
Ingredients
2 lbs fresh green beans, trimmed
½ cup cashews
1 tablespoon soy sauce
4 tablespoons rice vinegar
1 tablespoon minced garlic
2 teaspoons minced fresh ginger
1 teaspoon toasted sesame oil
1 teaspoon sugar
⅔ cup fresh cilantro, roughly chopped
¼ cup chopped green onions
Bring a large pot of salted water to boil. Add the green beans and bring the water back to a boil. Cook the beans through but still bright green, about 3-5 minutes.
Fill a large bowl with ice water.
Drain and add to green beans the water bath to stop the cooking. Drain the beans. Pat dry with paper towels.
Toast the cashews in a skillet. Once toasted, turn the heat up to medium-high and add the soy sauce. Toss and cook until the liquid has evaporated – about 30 seconds. Remove from heat and allow to cool completely in a large bowl.
In a small bowl, add and whisk together the rice vinegar, garlic, ginger, sesame oil, and sugar. Add dressing to the green beans and stir to coat. Serve topped with the cilantro, green onions, and soy-glazed cashews.
Check out our homestay blog for more information on hosting international students. Follow us on Facebook and Twitter to share your recipe photos!
If you're interested in hosting an international student, please fill out an inquiry form!