An Unbreakable Bond
Susan and Sharon share a special connection after spending four years living together learning each other's different interests, exploring the culture of the city, and sharing each other's culture.
Susan currently hosts for Cardinal Mooney Catholic High School has been a wonderful host for Cambridge over the last five years. For the previous four years, she has hosted a student named Sharon.  Susan and Sharon have had an excellent relationship since they have been together for all of Sharon's high school experience. Susan helped Sharon get adjusted to all the changes there were coming to a new country. She has taken Sharon to many different restaurants in the city, so she can experience all the different foods there are in her town. She has also given Sharon opportunities to share her culture with the neighborhood children by teaching them some Chinese and sharing about her culture. During the holidays, Susan has made sure that Sharon was able to experience all the different activities surrounding that holiday as well. Both Susan and Sharon have been delighted with their experience getting to know one another and both have shared with me that it will be hard saying good-bye!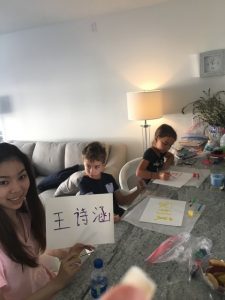 Gaining a Family Member
Grant and Traci Lucas are a vibrant, intelligent, and caring family. Their son, Xavier, is six years old and is in kindergarten. The Lucas's wanted to open the doors of their home to a student to gain another family member and have a "sibling" that their six-year-old son could learn from and look up to.
The Lucas family believed that it would be a once in a lifetime experience to host an international student as they want to teach their son to have the perspective of understating and appreciating people from different cultures. So they decided to begin the process to gain another family member and find a role model for their son.
Grant and Traci have proven to be fantastic host parents. They have a student who is quite reserved but have worked hard to integrate him into their family. They encourage the student to travel with them as often as possible too, which has resulted in many unforgettable trips! For spring break this year, they went to Atlanta and enjoyed the warmer weather.
The Lucas family has also communicated frequently with the student's natural parents to help support their parenting and assimilating of the student into the American culture. An example of this would be table manners; at first, the student struggled to become accustomed to the American table etiquette. Thus, the host family outlined their expectations visually. Then, these were shared with the natural family. The natural parents partnered with the host family in supporting their child, which has been a blessing.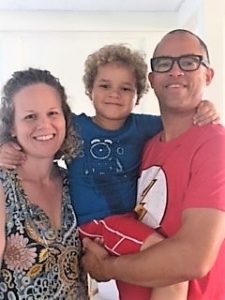 Check out our homestay blog for more information on Cambridge Network as a residential provider, tips for hosting, and our host testimonials. If you're interested in hosting an international student, please fill out an inquiry form!