Cooking is a lovely way of sharing cultures and getting to know your student, what better way to make your student feel at home than a home-cooked meal. Invite your student to join you on a shopping trip to your local Asian Market. You'll learn about your student's food preferences while walking through the market shopping for ingredients. In this edition of the Cooking Corner, we'll introduce you to some traditional breakfast foods which are popular in China. Breakfast dishes in China widely differ from one region to the next. The steps are quick and easy to follow.
Some favorites are warm soybean milk and deep-fried dough sticks, congee or rice porridge, steamed buns, tofu pudding, and rice noodles.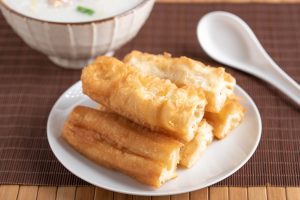 Soybean Milk and Chinese Donut (You Tiao)
This simple yet delicious breakfast consists of warm soybean milk accompanied by crispy, deep-fried twisted dough sticks. It's quick and convenient, which makes it a perfect breakfast combination on a busy morning.
Prep Time: 12 hours
Cook Time: 20 minutes
Yield: 10 Servings
INGREDIENTS:
1 Tbs milk
2 Tbs softened (not melted) butter
Approximately 1/3 cup water
Oil
2 cups all-purpose flour
1 egg
½ tsp salt
1 ½ tsp baking powder
DIRECTIONS:
First mix the flour, egg, salt, baking powder, milk, and softened butter together.
Continue mixing then slowly add the water in a few separate batches.
Knead the dough for 15 minutes (the mixture should feel very soft but should not stick to the bowl).
Cover and let rest for 10 minutes.
On a floured surface, form the mixture into a long flat loaf shape, about ¼ – inch thick and 4 inches wide. Try to make it uniform. Place it in middle of plastic wrap on a baking sheet and then wrap the dough, tucking the two ends of the plastic under the loaf ensuring the mixture is completely covered.
Refrigerate 8-10 hours.
Remove dough out from the refrigerator. Let the dough sit until the dough is back to room temperature and soft to touch.
Add oil to wok or large pan with some depth for safety.
Use medium heat to bring the oil up to 400 degrees slowly.
On a lightly floured surface, unwrap and flip the dough flouring all sides.
Cut the dough into 1-inch wide strips (cut an even number of strips)
Stack the strips 2 x 2
Press the center, lengthwise with a chopstick
Hold the two ends of each piece and stretch the dough to a 9-inch strip.
Carefully lower the stretched dough into the oil. If the oil temperature is hot enough, the dough should float right away.
Using chopstick quickly roll the dough in continuously for a minute.
Remove when light golden brown.
Prepared You Tiao should be available at any major Asian grocery store.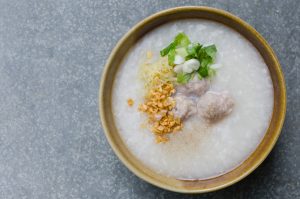 Rice Porridge (Congee)
Prep Time: 5 mins
Yield:  3 -4 Servings
Congee is a type of rice porridge popular in many Asian countries. This delicious dish is an everyday breakfast in China. It's comforting, straightforward, and versatile. Also, it can be served with additional ingredients such as meat, fish, and vegetables.
INGREDIENTS:
¾ cup long grain rice
9 cups water (or substitute with stock)
Pinch tsp salt
Optional ingredients (crushed peanuts, fried egg, and chopped scallions)
DIRECTIONS:
In a large pot, bring the water and rice to a boil.
After boiling, turn the heat down to medium-low. Cover with a tilted lid to allow the steam to escape.
Cook on medium-low to low heat, stirring now and then until the rice is thick and creamy; about 1 hour
Add salt, and optional ingredients to taste.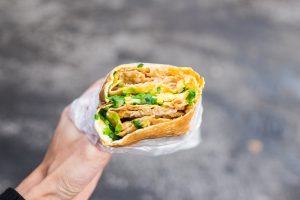 Pancakes with Eggs (Jian Bing)
Jian Bing is one of China's most famous street breakfast food items. These savory egg crepes are a great combination of texture and flavor.
PREP Time: 15 minutes
Yield: 4 Servings
INGREDIENTS:
1 1⁄4 cups all-purpose flour
1 ½  oil
1⁄2  cup milk
4 eggs
½ cup hoisin sauce
½ cup mild Chinese chili sauce
½ cup sweet bean paste (tian mian jiang – optional)
water
water
4 small green onions, sliced thin
8 teaspoons cilantro, chopped
DIRECTIONS:
To make the batter, mix the flour, 1 tablespoon oil, milk, and ½ cup water.
In a small pan, add ½ teaspoon oil, on medium heat. Add the sliced green onions. Fry for about 20 seconds, then add the Hoisin and chili sauce. Cook for 1 minute. Add water, and stir. Then side aside for later.
Using a paper towel dipped in ½ teaspoon of oil to coat a large skillet or hot plate to prevent sticking. Add to medium-high heat. Mix batter before pouring, and then add ¼ cup to the pan. Using a flat spatula, spread into an 8- 12-inch thin layer and cook for 30 seconds.
Mix 1 egg in a small bowl and add to the top of the crepe. Spread the egg evenly using the back of a spoon. Cook for a minute, until the egg is solid and the pancake is starting to brown, then flip.
Once the egg begins to brown, about 1 minute, then flip again, so egg side is up.
Spread ¼ of the sauces and green onion mixture onto the egg surface. Evenly add two teaspoons of the chopped cilantro over the crepe.
Lay one half of a You Tiao (Chinese Donut) in the middle of the crepe.
Cover both sides of the crepe over the You Tiao. Then fold Jian Bing in half.
Repeat steps 3 to 8 for the remaining batter.
Check out our homestay blog for more information on hosting international students. Follow us on Facebook and Twitter to share your recipe photos!
If you're interested in hosting an international student, please fill out an inquiry form!