As the adage goes, "It takes a village to raise a child!" This is something that has become more apparent as we all work together to support our international students.  Across the United States, our wonderful Student Development Managers (SDMs) have been working hard to share ideas and come up with fun ways to keep our international students engaged during this difficult time.  The result has been amazing online activities each week.  Check out some of the amazing activities below!
If you have not heard of these events, please check-in with your SDM to see what weekly activities are being planned for your students.  We are all in this together, and it's our mission to continue to think outside the box to find creative ways to love, guide, and nurture each student during this challenging time. Click here to learn more about "How To Keep International Students Engaged During COVID-19 School Closures".
Weekly Cooking Class
Our wonderful SDM, Brigitte, brings her knowledge of cuisines from around the world and hosts cooking classes for students and host families.  This has been an excellent opportunity for hosts and students to work together and cook some delicious foods from across the world.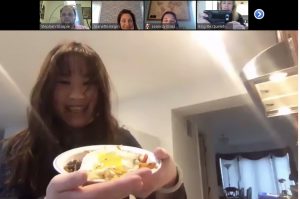 Game Night!
SDMs across the country have been working together to host game nights for the students. Below students are playing the Family Feud board game, based on the popular tv show where you have to guess the top answers that people gave for various questions. Whether it's Charades, Pictionary, or an online version of your favorite board game, these events have allowed students to come together and compete in fun challenges each week!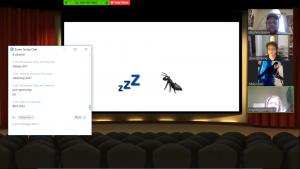 COVID-19 Cambridge UP! classes
Our Cambridge UP! team of SDMs and teachers worked quickly to create some workshops and mini lessons to help students deal with various aspects of the pandemic.  Our mission is to keep the students informed and give them tips and tricks to deal with everything from mental health during self-isolation to how to use technology to stay connected.  These lessons have proven to be helpful in supporting our students!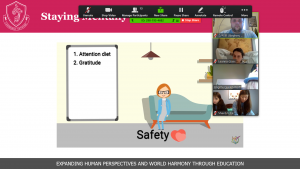 Scavenger Hunt
One SDM, Rudy, got his students together for a fun scavenger hunt.  He worked with the host families to prepare them for the fun that would take place with the students.  It was a huge success. This got everyone up and moving in a fun competition!
Karaoke Night
SDMs worked to plan a fun karaoke night for the students!  The students got to show off their singing skills to win fun prizes.  It was so much fun!
Benefits of Activity Nights
We have found many benefits to hosting these events each week for the students:
Community- Students, host families, and SDMs can interact with each other. It has created a greater sense of community during these difficult times.  It is a reminder that we are all here for one another.
Fun- We are all struggling with the "new normal" that exists. These activities give everyone a chance to relax and have some fun for a bit each week!
Added Support- This added support helps to show our students' families that we are all here for their children. The natural parents enjoy seeing all the fantastic photos of their students getting to have some fun each week.
Check out our homestay blog for more information on Cambridge Network as a residential provider, tips for hosting, and our host testimonials. If you're interested in hosting an international student, please fill out an inquiry form!