Schools are closed in many parts of the world to slow the spread of the coronavirus (COVID-19), and students everywhere are staying home due to the pandemic. But school closures and social distancing doesn't mean learning and fun should stop. Luckily, there is plenty to do at home with your international students, including learning through activities and engaging game. Check out our list of suggestions below on fun ways to sharpen minds and create happy memories with your students and family.
Education
Many students report that their schedules are open with the absence of school, sports participation, and club and volunteer activities. There will likely never be another period where they can focus on other academic pursuits. Here are a few ideas:
Encourage your international student to read lots of books in English. Reading is a fantastic way to increase vocabulary, which will help tremendously on the TOEFL exam for college admissions. Many ebook vendors are offering free trials during this time.
Prepare for standardized tests! Have your international students add the "SAT question of the day" app to their phones. There are hundreds of questions available, and a new question is released every day. Try the Khan Academy test prep sites as well. Even though some schools are doing away with the SAT/ACT requirements during this period, many are not.
Learn a new language. If your student is taking a foreign language at school, now is the time to explore the culture of the country of their chosen language. There are many virtual tours offered online, and lots of free language apps are available.
Free Cambridge UP online classes! Cambridge Network offers fantastic weekly classes focusing on developing both academic and social-emotional skills. Now is the time to attend some of these great classes.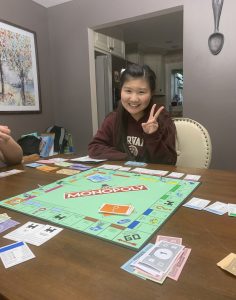 Family Fun
With so much time spent online attending school and with regular phone use, its crucial to find some activities that aren't computer-based. Here are a few options that have proven successful for our families:
Movie night. Take advantage of streaming companies offering free trials or dig into your DVD collection. Add some popcorn, and you will be creating some great memories. Turning on the English subtitles is a great way to help your international student understand the dialogue and learn English at the same time!
Family game night is a favorite American pastime. Pull out the monopoly board, Yahtzee, or Pictionary and have some fun! Are you feeling more creative? Make up your own games through scavenger hunts, obstacle courses, and more!
Puzzles! We see lots of pictures of host families taking on challenging 1000-piece puzzles and working as a team to complete them. It's a great activity for everyone.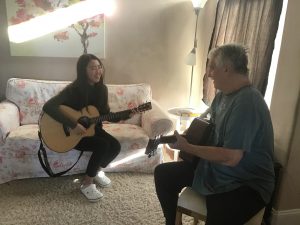 Get Creative
While we realize that not every host family is crafty, we feel that creativity can take many different forms. Encourage your student to explore some areas of creativity they have never had the time to delve into:
Learn or play musical instruments. This is a great time to watch some YouTube videos and pick up a new instrument or one that you haven't played in a while.
Teach a new skill. Ask your student if they want to learn a new skill like sewing, knitting, woodworking, or even how to change a tire? Teach them a new skill and spend some time together!
Try out a new recipe. Encourage your kids to get in the kitchen and cook with you. Try baking a delicious treat or work together to make an original dinner recipe.
Explore other at-home hobbies. From starting a garden to tackling art or science projects, this is a great time to explore interests that might be otherwise hard to find the time for.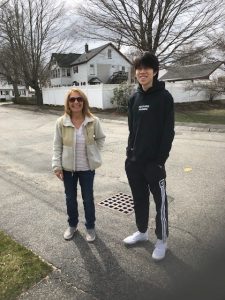 Physical Fitness and Outdoor Fun
Keep healthy habits and routines are essential when we are stuck indoors and will make getting through this season a little easier. Here are some tips and suggestions from host families:
Going outside daily for a run, walk, or bike ride is a great way to spend an hour or so. Walk the dog or take a stroll around the neighborhood but make sure always to practice social distancing.
Workout in a park or have fun in the backyard. You don't need to go far to enjoy some fun exercise. Do a yoga session outdoors or shoot some hoops together!
With much of our days now spent inside, it is more important than ever to get moving. Getting some fresh air and getting the heart rate up!
One fun way to keep your students engaged is to start a DIY project together. Here is some great DIY inspiration from our Cambridge Network Student Development Manager and Host Parent Simone! Ask your Student Development Manager (SDM) about virtual events and workshops we are hosting! Our SDMs have also organized a variety of online activities for our students, including virtual cooking classes, karaoke night, game night, and scavenger hunts.
Click here to learn more about "Fun Activities and Things to do with International Students During Quarantine".
Feel free to share how your household has come up with fun things to connect as a family and stay engaged. We look forward to hearing your great ideas!
Check out our homestay blog for more information on Cambridge Network as a residential provider, tips for hosting, and our host testimonials. If you're interested in hosting an international student, please fill out an inquiry form!