Mike (Chengyuan) Ma is currently a junior at Christian Brothers High School in Sacramento, CA. When he initially enrolled CBHS, Mike was opted out of Cambridge Network's residential program. But after a series of shifting arrangements that were not right the fit, Mike and his family made the decision to join our homestay program. In late February, Cambridge Network was able to place Mike with the Woods Family, one of our approved hosts in the area. With rising concerns over the coronavirus (COVID-19), the Woods family decided to write a letter to Mike's family in China to reassure them of Mike's transition into the Woods's home and acknowledged the added responsibility of the current circumstances surrounding the pandemic (see the Woods Family's Letter below).
Hello Mr. and Mrs. Ma,

We are Paul and Emelita Woods of Sacramento, California USA. Thank you for choosing us to Host your wonderful son, Chengyuan.

Since March 1st when he joined our family here in Sacramento California, Mike has been a welcomed guest. I think we are learning more from him than he is learning from us.

He seems to be very comfortable here with us.  The commute to school was very easy and the time schedules fit perfectly with our own work and travel schedule. However, as you know by now, Mike will probably be finishing this school year from "home" where he will complete his lessons online from our home.

He has his own room and has a very nice and comfortable study area where he does spend a lot of time working on his studies for school. He seems very focused and is always alert to be ready for his twice weekly online English Language tutor appointments.

Mike has been very respectful here with us. He is always willing to help and seems to like to help Mrs. Woods when she is preparing a meal.

He keeps his room and bathroom very clean and he is always clean and neat, even when he is not going outside to school.

We also have our 6-year-old granddaughter who often visits us on weekends. Mike and her quickly became "buddies" playing a card game called "go Fish," and sharing microwave cheesy popcorn.

Mr. and Mrs. Ha, please understand that if Mike needs to extend his stay here in the USA because of the current virus situation, we are more than willing to continue to have Mike stay with us under the present conditions.

In the meantime, we will accept the continued responsibility you and Cambridge Networks have given us of watching over your son as if he were our own.

Best Regards.

Paul and Emelita Woods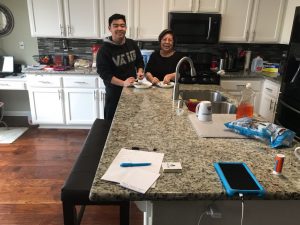 This wonderful gesture by the Woods family prompted Mike's parents, Ting Wang and Haison Ma, to reply back with a letter of their own. Given the situation of COVID-19, Mike's parents were strongly considering withdrawing Mike from his school to return to his home country. But upon receiving the Woods family's letter, Ting and Haison's worries were eased by the amount of care and understanding shown by Mike's host parents and decided against having Mike return to China. Mike's parents go on to thank the Woods family for their added attention and support for Mike while he is in their home. (see the Mike's Parents' Letter below).
Paul 先生和Emelita Woods太太你们好:

Dear Paul and Emelita Woods,

我们是Mike的妈妈王婷、爸爸马海松,收到你们的来信非常高兴与欣慰!

Mike与你们近一个月生活,能如此的和谐轻松,让我们的心情也平稳了许多。

我们和Mike聊天时,他经常绘声绘色描述您的开朗健谈和夫人的美食,他非常喜欢和您们生活在一起,感觉他比以前快乐多了。

We're Mike's mother Ting Wang and father Haisong Ma. It's a great pleasure to receive your letter. We feel so much relieved to know that Mike has been getting along with you so well during this month. When we talked with Mike, he was always very excited to share with us how much he's impressed with your optimism and easy-going character and the delicious food Mrs Woods made. He told us that he enjoyed so much living with you. I can feel that he's much happier than before.

对于疫情的全球性蔓延状况,我们是非常担心的,也在考虑是否需要暂停学业,但是看到您们对孩子做的安全防护措施,并自身也在以积极态度减少外出和加强防护,这些方法让我们倍加安心,再次表示由衷的感谢!

We were very concerned about the spread of the virus all over the world, we were even considering the possibility to have Mike terminate the study and return to China, but we feel at ease when we learned the precaution measures you did for Mike, and that you're also trying to go out less and take more preventative actions. Thank you so much for doing all these things.

由于疫情原因,孩子的学校改为网络授课,Mike对您们家里打扰的时间会比以前更多了,也请您和夫人谅解。

Due to the virus, Mike's school switched to online classes, Mike will stay home more than before, please forgive him if he disturbs your life.

Paul 先生和Emelita Woods太太,我们了解到美国的防护用品目前很紧张,我们也准备了一批防护用品,现在还在等待海关的通行许可,一旦放行会马上快递发出。

Mr and Mrs Woods, we learned that there is a shortage of preventative products in US market currently, we prepared some of those products and they're waiting for the permission to get through the custom. They will be shipped out soon.

疫情的治理进度会直接影响孩子的暑期计划,具体情况现在还未收到学校的反馈,估计今年有可能无法回国,看到您的建议和安排我和我的先生都非常认可,也替孩子感谢一下!

The containing progress of the virus will directly influence Mike's summer plan, we're still waiting for school's decision. It's likely that Mike would not be able to return to China during the summer. We're very grateful for you allowing Mike to stay there for the summer if he can't come back.

最后我和我的丈夫祝您全家身体健康,生活幸福!

We wish you a healthy and happy life!

Mike的妈妈和爸爸

Mike's parents
Check out our homestay blog for more information on Cambridge Network as a residential provider, tips for hosting, and our host testimonials. If you're interested in hosting an international student, please fill out an inquiry form!