When the news is all doom and gloom—as it has been since the outbreak of the coronavirus— it's important to stay positive and optimistic. Focus on the positive so that you have the energy and resolve needed to weather this storm. Here are some tips for your family to create safe spaces and keep things in order around the house during the quarantine.
Making the Most of Family Time
While some families may be relishing this opportunity for togetherness, others might be feeling an added layer of stress.  For most, it's likely a combination of the two.
Recognize your student's emotions and be open to talking about them.
Listen and validate their feelings
Clarify Expectations and Explain House Rules, have Dinner as a family
Create a Daily Schedule
Assign daily chores like "cleaning out a closet" or "organizing your room"
Have fun coming up with family activities
When tensions rise, take some space for yourself
Maintaining Healthy Habits
Maintaining healthy habits is now more critical than ever.  Daily self-care benefits our physical as well as our mental well-being. Here are some health and hygiene tips everyone should be following:
Frequent handwashing with soap and warm water for 20 seconds
Shower regularly
Brush and floss your teeth at least twice a day
Get plenty of rest, striving for 8-10 hours a night
Eat three basic meals a day, Limit your sugar intake which can make you feel sluggish and drink 6—8 glasses of water per day
Exercise daily and try to get outside. Walking, running, dancing to music are just a few examples.
The CDC has recommended wearing masks when outdoors at any time, making sure to cover your nose and mouth.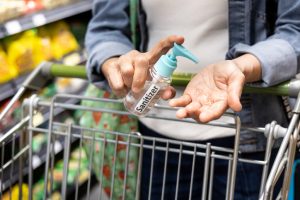 Maintain Social Distancing in Public
We all need to shop for groceries but should use the necessary precautions to safeguard our homes and family. These may take some extra time, but well worth the effort.
We must always protect ourselves by using a mask and gloves while grocery shopping.
Follow stores rules and distance yourself by 6 feet between others.
Make a list and shop for two weeks worth of food at a time to avoid having to make unnecessary trips out to the store.
Make sure to wipe down your cart with disinfecting wipes before shopping.
Dispose of your gloves in a trash container and when in your car, use hand sanitizer or wipes on anything that may need disinfecting.
After bringing groceries in your home, wipe items with sanitizing wipes and after all groceries are away, sanitize your area that the groceries were on.
Learning Online
Create a daily routine. Students should still have a reasonable bedtime for sleep to get the rest they need.
Leave enough time to wake up and get ready for class. Students should shower and have breakfast before they start their day.
Students should do virtual classes sitting in at a desk or table, not their bed.
Make sure they take breaks to reset and clear their mind, get some fresh air, or eat a healthy snack.
Limit their time on social media and gaming.
Encourage students to reach out to their teachers to gain a better understanding.
Consider how you are using this time.  When the Coronavirus is behind us, and we get back to our lives, how will you look back on the experience?  What will you have learned?  How will this have changed you?
Check out our homestay blog for more information on Cambridge Network as a residential provider, tips for hosting, and our host testimonials. If you're interested in hosting an international student, please fill out an inquiry form!