Each school year our host families from across the US welcome international students into their family. Our students will try new foods, meet new people, forge bonds, and for many celebrate the holidays for the first time. Below you will read about some of the different families who recently celebrated a holiday with their student and told us about their special experience in their own words. We hope you enjoy hearing about these experiences as much as we did!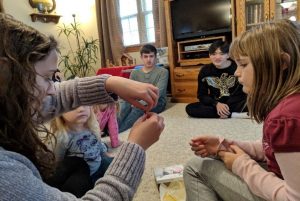 "Andi joined us the first day of Christmas break, and almost immediately he felt like part of our family. He happily came along on family events, Christmas and New Year's parties with friends, all-nighter youth fun at our church, ice skating, bowling, movies, meals, and fit right in! It has been such a joy and blessing to learn about Chinese culture from him, try new things, and watch him learn and try new things as well (including but not limited to sauerkraut for him and jellyfish for us). At one family gathering, Andi joined a 4-hour-long card game with thirteen other people and won! We are so thankful for the opportunity to include him in our lives and for his enthusiasm for being involved! He is pleasant, courteous, a great sport, quick to laugh and we are so happy to have him with us!" – Katie Immel
Katie Immel, hosting Andie Lian
Central Christian School – Kidron, OH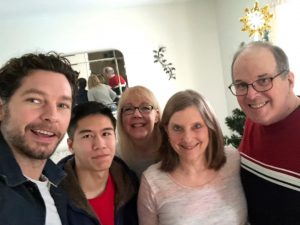 During the Christmas holiday, Hollywood actor Jackson Davis and his mom flew in from California to visit Jerry Dai and his host family, Brett and Carol Swaileses. The Davises are old friends of the Swailes and Jerry was thrilled to meet Jackson Davis. The Swailes were thrilled to spend the holiday with him and to provide this experience for him.
Brett and Carol Swailes, hosting Jerry Dai
Lancaster Catholic High School – Lancaster, PA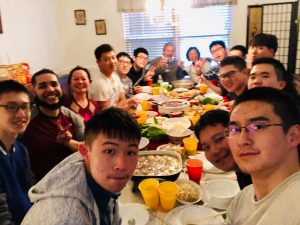 "The Stout family has been hosting for Cambridge since the program started six years ago. In that time, Fu Mei and John have done so much for their students and all of the students that have come through the area. A huge testament to how loved the Stouts are is when the graduates come back during their holidays to stay with them, as they feel at home and know they'll always be welcome.
Their home in Dresher, PA has become a favorite gathering place for all the students in the program. This month, we held our annual hot pot dinner at the Stout's home. It's amazing watching the students come together year after year and everyone contributing to the dinner. Fu Mei and John have instilled in our LaSalle students the ideals of giving back and being thankful for time spent together. This year's hot pot dinner was an extreme success with plenty of delicious food, laughter, and thoroughly enjoying each other's company. As their coordinator, I am truly thankful for the Stouts and everything they've done over the years to make our program special."
Rudy Vidal, Student Development Manager
La Salle College High School – Wyndmoor, PA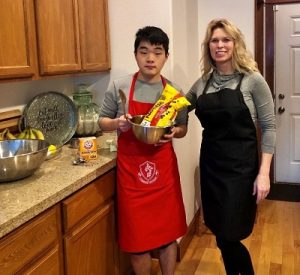 "Fan Bu is a first-year student at Gonzaga Prep and has become comfortable and happy at home with his host parents. He told his host mom, Kristin, that the school had delicious chocolate chip cookies. When Kristin told him they could make them at home, he was so excited! Over the weekend, they made them together. He loved learning how to measure the ingredients and enjoyed his first baking experience. The cookies turned out great!"
Laurie Sylla, Student Development Manager
Gonzaga Preparatory School – Spokane, WA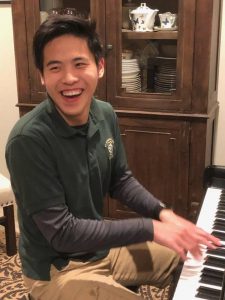 "Cambridge Network host Roberto fondly remembers growing up and seeing the grand piano in his grandmother's living room. Even before his feet could touch the ground, Roberto's parents had enrolled him in piano lessons. Roberto would pass on his love for music to his son, Santiago, who can often be found filling their family home with new melodies he learns on his own over the internet. He would look up new songs to play from contemporary artists or songs from movies he liked.
Last year, Roberto's family began hosting Tommy Huang, a senior at Saint Bonaventure High School. Tommy was intrigued by Santiago and shared that his mom had unsuccessfully tried to get him to play piano growing up. But after seeing Santiago having fun and picking out songs he wanted to learn, Tommy was encouraged to start playing piano again. Tommy would learn to play "Ballade pour Adeline," one of his host father's childhood favorites and joins his host brother, Santiago, in putting on impromptu concerts on the family piano. Roberto shares that, "Tommy has been a pleasure to have in my home, and I am happy to see that the love of playing piano has been passed down from generation to generation and even internationally."
Robert Brown, Student Development Manager
St. Bonaventure High School – Ventura, CA
Check out our homestay blog for more information on hosting international students. If you're interested in hosting an international student, please fill out an inquiry form!