Dumplings are the perfect way to gather your family and host student to make an easy and delicious dinner. During the Lunar New Year celebration, dumplings are commonly eaten because of their resemblance to gold and silver ingots is said to bring good fortune in the coming year. No need to wait until the next new year, this recipe is a fun meal to make with your family anytime!
INGREDIENTS
1 package of dumpling/gyoza wrappers
FOR FILLING
2 teaspoons dried shrimp found at oriental markets, finely chopped
2 teaspoons sherry
1 1/2 cups cabbage chopped
1/2 teaspoon kosher salt
1 pound ground pork
1 bunch chives reserve a few for garnish, chopped
1 large clove garlic minced
1-inch knob ginger peeled and grated
3 tablespoons low-sodium soy sauce
1 tablespoon oyster sauce
1 tablespoon sugar
1/2 teaspoon sesame oil
1 large egg beaten
1/4 teaspoon black pepper freshly ground
1 heaping tablespoon cornstarch
FOR DIPPING SAUCE:
1/3 cup unseasoned rice wine vinegar
1/4 cup low-sodium soy sauce
1 teaspoon Sriracha or more to taste
1 scallion sliced on a diagonal
SPECIAL EQUIPMENT
bamboo steamer or steaming basket (for steaming only)
large sheet pan lined with parchment paper
INSTRUCTIONS
In a large bowl, combine all the ingredients for the filling and use your clean hands to mix thoroughly. Set aside.
In a small bowl combine the ingredients for the dipping sauce and set aside.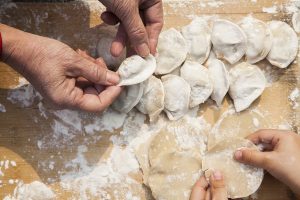 FORM THE DUMPLINGS
Add water to a small bowl. Hold a wrapper in the palm of your hand. Dip your finger into the water and brush the water around the perimeter of the wrapper. Spoon a teaspoon of filling into the center of the wrapper and fold in half. Begin pleating the dumpling by making a small fold at the edge of the top wrapper and pressing the pleat firmly to adhere to the bottom of the dumpling. Continue to crease and press until the dumpling resembles a half moon, and the filling is sealed inside. Place the dumplings on the baking sheet and continue assembling the rest.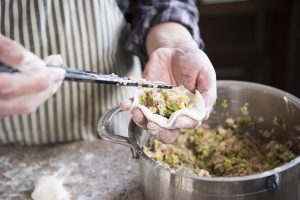 TO STEAM THE DUMPLINGS
Add 1″ of water to a large pot and bring to a boil. Arrange a few cabbage leaves on the bamboo steamer or the steaming basket (so dumplings don't stick). Arrange dumplings in the steaming basket and set in the pot – so that the dumplings aren't touching the water. Cover with lid and steam until the wrapper is translucent and filling is firm and cooked through – about 5-6 minutes. Transfer to a platter and garnish with extra chives or sliced scallions. Serve with dipping sauce.
TO FRY THE DUMPLINGS
Add 1-2 tablespoons of vegetable oil to a skillet and heat over medium-high heat. When skillet gets hot, place the dumplings in the pan (crease side up) and cook for 1-2 minutes to get a good crust. Carefully add enough water to the pan so that it just covers the bottom and put a tight fitting lid on the pan. Cook for an additional 2-3 minutes, or until water evaporates and dumplings are cooked thoroughly. Transfer to a platter. Garnish with chives or chopped scallions and serve with dipping sauce. Enjoy!
Check out our homestay blog for more information on hosting international students. Click this link to see our last Cooking Corner recipe.
Follow us on Facebook and Twitter to share your recipe photos!