Dear Angela,
I know Lunar New Year is one of the biggest times in Asia for celebrating with family, like during Thanksgiving or Christmas here. How can I help my international student enjoy the Lunar New Year while they're in the U.S. and away from their family and friends? I want to make sure my student has the best experience possible and doesn't feel homesick during the holiday.
Sincerely,
Culturally Curious Host Mom
—
Dear Culturally Curious Host Mom,
Thank you for reaching out with this interesting question!  This year, Lunar New Year falls on February 12th, 2021. The celebration in China lasts for fifteen days and at least a week in South Korea and Vietnam.  "Seollal" is the first day of the Lunar New Year calendar in Korea, and the holiday is known as "Tet" in Vietnam.  A typical family's celebration includes family time, traveling to see relatives, and lots of great food!
There are several things hosts can do to celebrate the holiday and share their student's culture during this important time.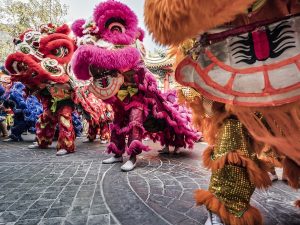 Learn from Your International Student About How to Celebrate the Holiday
Talk to your student to learn how they celebrate with friends and family back home. This is a great way to get students talking and show you appreciate their culture! You can also review our blogs about Lunar New Year traditions: "Chinese (Lunar) New Year Red Envelope Traditions and Meanings." Ask the student what they would like their Lunar New Year to look like this year. Discuss together ways your host family could participate and make this an exciting and fun time for all. Keep in mind that there are activities that are traditionally avoided in China during New Year's Day which are considered unlucky or taboo. These unlucky activities include:
Showering
Sweeping or throwing out garbage
Haircutting
Using scissors, knives, and other sharp things
Arguing, swearing
Saying unlucky words (such as "death" and "sickness")
Breaking things
If you're interested, here are some other Lunar New Year traditions in Vietnam, Korea or China.
Preparing and Enjoying a Traditional Family Dinner Together
This is another great way to get your international student's input and participation in celebrating the Lunar New Year. Ask them for their favorite holiday foods and see if you can connect with their natural parents for some pointers or a family recipe. You could also try one of many hand-picked Lunar New Year recipes on our homestay blog (Vietnamese New Year Recipes, Longevity Noodles). You can also host a virtual hot-pot party or dumpling making party (Check out our recipe here)! Bring your international student with you when you go grocery shopping to your local Asian market to help pick out ingredients. Many international students are also comforted by having some of their favorite Asian snacks when they are thinking about home.
Share a Tradition in Your Home or Community
Usually, local Lunar New Year celebrations are hosted if there is a local Chinatown or Asian community nearby. Although with COVID-19, these events may be postponed or canceled. Many Asian American communities host festivals and other events during the holiday season including parades, lion dancing, outdoor markets, and much more. Instead, get together with your international student to watch the New Year's Eve Gala or Chun-Wan (the largest broadcasted program in China) which is like watching the ball drop on New Year's Eve. Make Lunar New Year decorations and put them up around your home, and be sure to ask your student the meaning behind the traditions.
Be understanding of your student's mindset during holiday time and add a little flexibility to house rules when possible. Students may want to stay up later during the family's holiday time to connect with friends and family.
This year the Lunar New Year is especially important because many of our students haven't been home for a break in a while due to Covid-19  Remember that Lunar New Year is a family holiday, and it is not surprising that our international students, who are far away from their families, may show signs of homesickness. They may feel left out knowing that their friends and families back home are celebrating when they can't be there. This is challenging for some teens to process.
Homesickness shows up in many ways. Here are some signs to watch out for:
Sadness – changes in mood, not smiling or laughing
Depression – not talking, little interaction, isolating themselves, changes in sleeping or eating habits
Missing school – mysterious illnesses or skipping school
Not doing schoolwork – typically completes and turns in on time, but now starts missing assignments or turning in late
Less attentiveness – unable to focus on tasks in school or at home
As always, if your student is exhibiting signs of concern, please reach out to discuss it with your local SDM.
We hope these tips and resources are helpful.  Enjoy the Lunar New Year holiday with your student and family!
Happy New Year!
Chinese – 新年快乐 (Xīnnián kuàilè)
Korean – 새해 복 많이 받으세요 (Sae-hae bok man-i ba-deu-se-yo)
Vietnamese – Chúc mừng năm mới!
Sincerely,
Angela
Check out our homestay blog for more information on Cambridge Network as a residential provider, tips for hosting, and our host testimonials. If you're interested in hosting an international student, please fill out an inquiry form!